01 Nov

Watkins coming home to talk about her team's 'Illuminate' project in India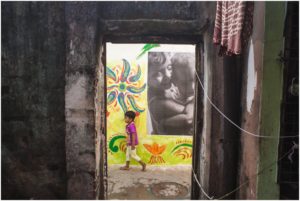 Monica Watkins can't wait to tell Huntsville all about her latest project. An artist, entrepreneur and proud graduate of Huntsville High School, Watkins is coming home next weekend to tell folks about "Illuminate," a new book Watkins worked on with her Beauty for Freedom team.
Watkins will be at the Wynne Home Arts Center on Saturday at 4 p.m. for a book launch and curator talk. Everyone is invited to attend; admission is free.
"We're so excited about the Wynne Home Arts Center event in Huntsville and feel it is an opportunity to introduce the project to a whole new audience," Watkins said late last week. "The reception will include a curator talk where I'll be able to share a few stories from our students at New Light Kolkata and the ideology behind the project and our empowerment initiatives for survivors of human trafficking."
Watkins flew to India last fall with the Beauty for Freedom team. Working with an India-based anti-trafficking organization named New Light Kolkata, the Beauty for Freedom bunch expanded its platform to include art therapy for trafficking survivors and at-risk youths.
"The world can be a harsh and cruel place to exist, and these kids have seen the worst of it, unfortunately," Watkins told The Item this summer as she prepared for the release of "Illuminate," a book that features a collection of photographs created by young people who captured their community of Kalighat-West Bengal, the red-light district in Kolkata, India. 
"It is our responsibility as a global community to heal the ills of this world," Watkins added. "One step, one person, one child at a time — that is my personal mission." 
During a photography workshop with the young people in India, instructors promoted self-esteem and self-expression. "Illuminate" is a reflection of that. 
"'Illuminate' is absolutely brilliant," Watkins said. "I'm not just saying that because I was a co-curator of the images. It's truly a tour de force of beauty, love and creates the opportunity for every viewer to spend a moment in the lives of these youth."
Watkins wants to show people in her hometown the powerful images that are featured in "Illuminate." 
"I feel so blessed to be able to share this project with everyone in Huntsville," she said. "I feel that so many people in the community have been cheering us on in this process. The support has been so inspiring and truly appreciated."
Guests at Saturday's event will be offered wine, refreshments and hors d'oeuvre while browsing through the book and watching videos from Project India. 
Linda Pease, cultural services coordinator at the Wynne Home, has also planned a musical performance. She has invited local youth groups to participate. 
"The afternoon is shaping up to be a really exciting and engaging event," Watkins said. "I have invited my co-founder and our director of communications and partnerships, Jerry Chu, along for the tour. He is very knowledgable on our programming and even joined the team this summer at our book launch in Mumbai, India. Jerry has been an integral part of the production/publishing process of the book.
"Book sales and the support for the book and project have been really great," she added. "We are still in need of corporate partnerships and sponsorships to help us reach our fundraising goals by this spring and will most likely finish our tour in Los Angeles."
Watkins will make stops in Houston, Bryan, College Station and Dallas while she's back in Texas. 
"I hope that our Illuminate Texas Tour can educate and inform supporters and students throughout Texas about the plight of survivors globally and the issues they are facing in the crisis of human trafficking," she said. "Additionally, we would love to build our network of volunteers and supporters throughout the state. I am really hopeful that we will meet these goals."