20 Jul

Beauty for Freedom Creative Arts Program featured in 2018 Trafficking in Persons Report

US Department of State released the 2018 Trafficking in Persons (TIP) Report focusing on the importance of local communities in the fight against human trafficking and encouraging national governments to support and empower their partners on the ground.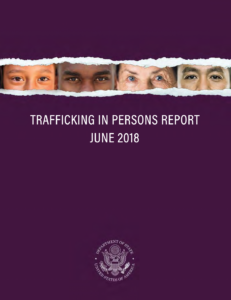 "This year's report focuses on effective ways local communities can address human trafficking proactively and on how national governments can support and empower them. Local communities are the most affected by this abhorrent crime and are also the first line of defense against human trafficking. By engaging and training law enforcement, religious leaders, teachers, tribal elders, business executives, and communities, we become more vigilant and learn to identify and address vulnerabilities swiftly. Proactive community-driven measures strengthen our ability to protect our most vulnerable and weaken a criminal's ability to infiltrate, recruit, and exploit. I have experienced firsthand that individuals closest to a problem are often the best resource to solving it, which is why the Department prioritizes equipping and empowering front-line civil society leaders.
"Modern slavery has no place in the world, and I intend to ensure, through diplomatic engagement and increased action, that the United States government's leadership in combating this global threat is sustained in the years to come." – Secretary of State Michael R. Pompeo
Beauty for Freedom – Project Ghana Creative Arts Therapy Initiative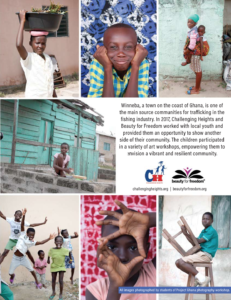 Our @beautyforfreedom #ProjectGhana creative arts therapy initiative supporting the young survivors of labor trafficking and at-risk youth at @challengingheights was featured in the report this year along with the images photographed by our BFF photography students in Winneba. We are truly proud of their work, our partnership with Challenging Heights and the fact that these exceptional youth are changing the narrative for survivors of trafficking and at-risk youth on a global scale. Hope, Love, Pride and Joy are the themes of the images they photographed. Just as the community of Winneba, Ghana has transformed from a place known for trafficking of children to a place where Challenging Heights has educated and fostered awareness around the issue of trafficking creating the possibility of a future free of slavery for Winneba and all of Ghana, we have the brightest of hopes for a future led by these incredible youth!
To download the full 2018 TIP Report, please visit www.state.gov
To support our Beauty for Freedom global creative arts therapy and empowerment initiatives for survivors, please visit www.beautyforfreedom.org
Click Here to View: Beauty for Freedom 2018 Project Ghana Documentary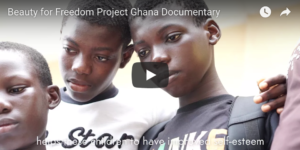 Summer 2017, Project Ghana, a Beauty for Freedom art therapy initiative in partnership with Challenging Heights, was able to empower over 350 survivors of labor trafficking and at-risk youth in Ghana. The Project Ghana documentary follows the art project through the eyes of Beauty for Freedom and Challenging Heights and is a testament to the fact that art truly does heal, educate and can be a conduit for survivors to support themselves and their recovery through creative expression.
Beauty for Freedom exists to empower survivors and at-risk youth of trafficking through creative expression and art therapy.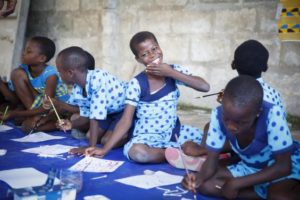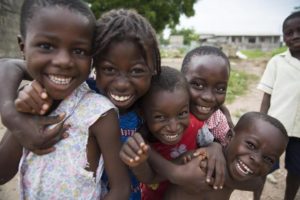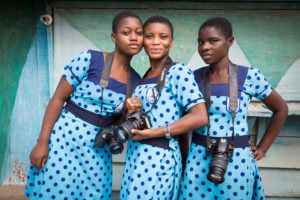 To support our Beauty for Freedom global creative arts therapy and empowerment initiatives for survivors, please visit www.beautyforfreedom.org