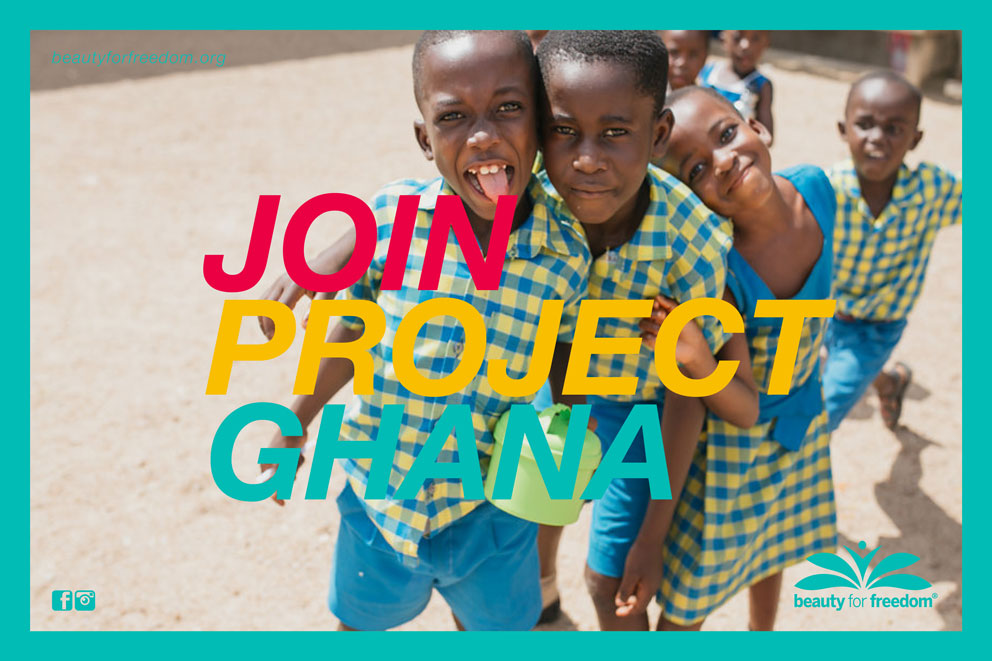 16 May

Support Project Ghana
Support Project Ghana by donating used DSLR Camera & Sponsoring Art Supplies
Our Beauty for Freedom team is gearing up for our 3-Week Arts Therapy/Empowerment Program with the amazing youth of Challenging Heights in Ghana, West Africa this June and we still need art resources (paint sponsorship and DSLR camera sponsorships). Please email us at info@beautyforfreedom.org to support and we have a really special small event planned the final week of May for people wanting to drop off old DSLR cameras and meet some of our amazing team members and instructors!
Project Ghana Overview
To sustain and grow their empowerment initiatives through the arts, NYC based anti-trafficking non-profit Beauty for Freedom in collaboration with Ghanaian anti-trafficking organization Challenging Heights will be producing a series of art, music and photography workshops meant to promote self-esteem and self-expression for the at-risk youth and survivors of labor trafficking supported by Challenging Heights.

"Unfortunately you don't have to look hard to find children working on the lake (Lake Volta), but it takes a lot to mount rescue operations that are backed up by the long-term support necessary to ensure children are not re-trafficked."
– James Kofi Annan
Founder & President | Challenging Heights
Project Leads
Monica Watkins – Executive Director/Beauty for Freedom
Shannon Mac Ardhail – Project Manager and Multi-disciplinary Artist
Project Goals
The workshops aim to help at-risk youth and survivors of labor trafficking creatively express themselves while discovering their potential, learning about and embracing their inner beauty and increasing their self-esteem.
Project Components
Photography Workshops – Photographers Anirudh Agarwal and Erica Simone will teach basic photography techniques and work with students who will openly and freely learn how to create and express their own vision through portraiture and fine art photography.
Art Workshops – NYC-based artist Zephy and Texas-based artist Travis McCann will teach workshops facilitating original paintings on canvas and paper creation by the CH youth. The artwork created will be used as a fundraiser for CH in NYC.
Mural Workshops – Artist Travis McCann will teach workshops facilitating mural design and creation by the at-risk youth of CH. The mural will launch for the CH youth and the community at the workshop's end in a community celebration.
Music Theory Workshops – Beauty for Freedom Instructors will work with the youth teaching basic music composition and DJ techniques and will help them to create a final compositions at CH's facilities.

Sponsorship Opportunities
We are always looking for support and for partners who share our vision and love for nurturing and cultivating youth through the arts. As recognition, Beauty for Freedom and Challenging Heights would be delighted to acknowledge our supporters on our sites and on social media. Event sponsors will be included in all promotional materials and press kits. For all inquiries, please email: info@beautyforfreedom.org
*All donations and sponsorships are tax deductible.
About Challenging Heights

Challenging Heights is a non-profit, non-governmental organization in Ghana that works to protect children's rights and end child trafficking. Founded by James Kofi Annan in 2005, our main efforts focus on addressing trafficking of children to Lake Volta, where they are forced to work in the fishing industry. We work in underserved coastal communities in Ghana, providing support to women and children in hard-to-reach areas that are at risk of child trafficking.
Mission Statement
To prevent child trafficking, reduce child slavery, and promote children's rights.
Vision Statement
A country in which child trafficking is a thing of the past and children's rights are celebrated.
Our History
Challenging Heights was founded by James Kofi Annan in 2005. James was trafficked to Lake Volta when he was 6-years-old and he spent seven years there in modern slavery. He managed to escape, return to his home in Winneba and put himself through school. While working as a bank manager, James saved up money to start Challenging Heightswith the intent to prevent more children going through what he did and to rescue the children still working on Lake Volta. It started small, with Child Rights Clubs at schools in 2003. By 2005 he had saved up enough money to legally incorporate Challenging Heights as a non-governmental organization (NGO) and quit his job at the bank. Over the years, we've grown from Child Rights Clubs at schools to conducting a number of rescues each year and rehabilitating children at our shelter.