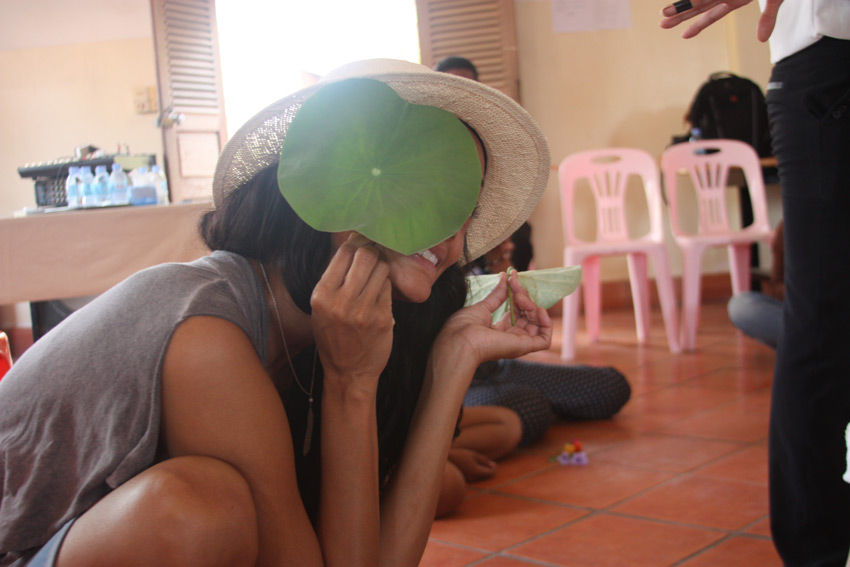 29 Apr

They are Precious Beyond Measure: Through Her Lens
---
Beauty for Freedom Photography Workshops
They are Precious Beyond Measure: Through Her Lens
All Photographs by the Students of Together1Heart
Words by Jeana Lindo
Here I feel that the purpose of my life's work has been solidified, yet my life is just beginning. On the first day at the center for young girl survivors of human trafficking in Cambodia, I taught a photo workshop whereby I instructed the girls to go out and pick flowers and leaves for portraits that would take of each other. They were so excited to hold the cameras and make great compositions, snapping photos of the staff, flowers and their friends.

After lunch, the girls left for school and we had the opportunity to teach art to younger girls. About twenty girls gathered around my one watercolor set and painted hearts and suns with faces and "i love you"s. The Beauty for Freedom—Together1Heart power team and I left feeling that we definitely needed more paint for these creative spirits.

The next day left us feeling extremely grateful to work with such loving people. It was a very big day because Somaly Mam returned to the center where her babies were waiting for her. Every one of the girls refers to her as their mother because she saved them from a life of slavery. Some of these girls are only four years old; they just learned to speak and their feet are smaller than my hands. When I look at those tiny toes in the photos I'm editing, I can barely make it through because it's so hard to imagine that someone would want to hurt a baby like that.

When Somaly gathered everyone together to thank us for coming by, we became very emotional. I looked at the beautiful girls sitting around me with so much light in their eyes and shuddered at the thought that someone would try to take that away. I cried tears of joy, however, when I looked at their smiling faces and heard their laughter and understood that it will never fade away. I cried because they chanted a chorus of "we love you" and said that they wanted us to come back. One of the babies brought me tissues and wiped my face.
When I see these children, I see hope and love like I've never seen before.
I see artists so eager to create and so willing to learn from us foreigners. No doubt they challenged us, asking "Why do u want to help us?" "What will you tell your friends when you go home?"
Monica Watkins (Executive Director of Beauty for Freedom) answered "we want to help you because you're amazing" and "we're going to say that we met the bravest young women we have ever met."
The girls gave us the charge to tell their story and be their voice so everyone can know what they have been through.

We came all the way from New York to share our love for art with these wonderful children, but they have given us so much more than we could ask.
They have returned our love tenfold and shown us why we must keep fighting until everyone is free.