20 Mar

Karen Millen x Beauty for Freedom Present: Capri Cafaro's Guide to Changing the World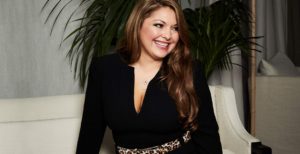 Capri Cafaro knows the impact one person can have in making a difference in the world. As Former Democratic Leader of the Ohio Senate, she championed causes affecting the vulnerable, including healthcare and social issues, speaking on behalf of victims and the underrepresented.
At a time when women feel galvanised to speak up and be heard, we sat down with Capri to discuss exactly how we can make a difference in society, one person at a time.
Raised in The Mahoning Valley, Ohio, a steel community affected by economic hardship in the '70s and '80s, former Democratic Leader of the Ohio Senate Capri Cafaro became interested in politics from an early age. She credits her grandfather – a WWII veteran, small-business owner and "everyday hero" – with piquing her interest in fighting adversity through political activism.
At 26 Capri became one of the youngest women to run for office and served as Ohio Senate Minority Leader for three years from 2009.
As a young female in a male-dominated space, she faced stereotypes and constant scrutiny for her appearance, which led to her having to "put in twice as much effort and do things twice as well", just to be recognised. Her top tips for gaining the respect of your peers? Be yourself, do your job and do it well.
"Due to social media, more and more women of diverse backgrounds and ages are becoming politically engaged."
"I recognised early on the relationship between government and the ability to help people."
During her tenure as state senator, she co-authored Ohio's Medicaid reform law and become a powerful advocate of ending the backlog of untested rape kits in the state. Now a political commentator and ambassador of anti-human trafficking charity Beauty For Freedom, Capri is living proof that one person can make a difference.
"Women can make a real difference through volunteering, running for office, contributing online or speaking to their friends."
From small everyday changes to running for council, follow in Capri's footsteps with our practical guide to making a difference in the world. Read it here.
Capri is an ambassador for Beauty For Freedom, a non-profit organisation created to empower survivors of human trafficking through the creative arts. Discover more  here.