19 Jul

Beauty for Freedom "The Art of Freedom" Exhibition & Cocktail Reception

Thanks to all of our supporters and donors, our Beauty for Freedom initiatives in NYC expanded this summer with a 4-week art therapy and self-care workshop series for 15 survivors of human trafficking and domestic violence who are clients of Mentari USA, a culinary arts training and survivor services organization in NYC.
Beauty for Freedom teaching volunteers facilitated a curriculum including self-care workshops, make-overs and image consulting, professional photo shoots and comprehensive art courses covering modern art history, mixed media collage, abstract expressionism and feminist art.
Expressive arts and self-esteem building activities are a means of helping survivors work through grief, loss, and trauma. Art making, whether via collage, painting or drawing has the potential to help individuals heal through very traumatic circumstances.
The workshop series culminated in "The Art of Freedom" Exhibition and Cocktail Reception and all of the artwork sold directly benefitted each survivor who created the work. Many victims of human trafficking in the US face severe challenges as they transition through their recovery. Survivors are oftentimes dealing with homelessness, a lack of resources and difficulty in finding opportunities for employment, job training and skills training. The funds from this exhibition will be a tremendous support for living expenses and educational needs for these incredible women!
About "The Art of Freedom" Exhibition and Cocktail Reception
Thursday, July 19th 6-9pm, Beauty for Freedom presented "The Art of Freedom", a mixed-media exhibit sharing the stories of survivors of human trafficking through the creative arts at WeWork 205 Hudson. The series is comprised of the compelling works created by over 30 survivors of labor trafficking and sex trafficking from the United States and India who are clients of MENTARI and Rescue Foundation. This art series was created in collaboration with Beauty for Freedom's art therapy and empowerment initiatives locally and in SE Asia and with the intent to communicate feelings of hope, overcoming and stories of freedom. Guest speakers for the event included activists Monica Watkins (Beauty for Freedom) and Mrs. Triveni Acharya (Rescue Foundation).
*All sales from artwork sold was donated directly to survivors of human trafficking in NYC that created this art series.
WOULD YOU LIKE TO IGNITE FREEDOM AND DIRECTLY SUPPORT A SURVIVOR OF HUMAN TRAFFICKING IN NYC? PURCHASE THE REMAINING PIECES OF ARTWORK FROM "THE ART OF FREEDOM" SERIES AND PROCEEDS WILL GO DIRECTLY TO THESE EXCEPTIONAL WOMEN!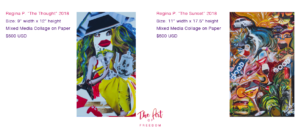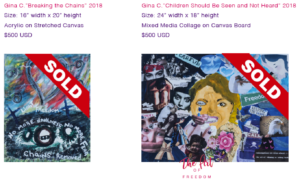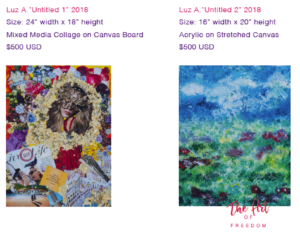 Photo Credit – Michaela Partridge