26 Apr

Beauty for Freedom: Fighting Human Trafficking

by Danyell Twyman (LIM College & BFF Intern)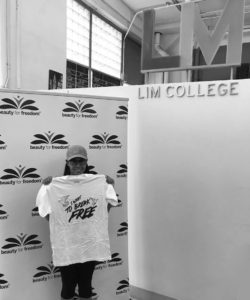 Internships are central to LIM's curriculum, and in my experience, they are one of the best aspects of the college because they complement classroom learning by providing real world experience. My internship with non-profit Beauty for Freedom has been invaluable because I was able to connect with a cause I'm passionate about and apply the skills that I've learned at LIM to my role.
Beauty for Freedom is a 501(c)(3) anti-trafficking non-profit that empowers survivors of human trafficking and at-risk youth through the creative arts. They engage the industries of beauty, fashion and entertainment as powerful allies in the fight to end human trafficking through youth advocacy education/mentoring programs, public campaigns, travel-abroad arts therapy workshops for survivors, and events. Beauty for Freedom focuses on skill development and improving self-esteem for victims/survivors and uses art and creative therapies to provide opportunities for survivors to discover new talents, interests, and strengths while their recovery and reintegration process in underway.
My personal experience interning with Beauty for Freedom has opened my eyes to the fact that the crisis of human trafficking is a global issue. Human trafficking occurs daily in many forms for the purpose of forced labor, sexual slavery, or commercial sexual exploitation for the trafficker or others. During my internship, I was able to work on their most recent travel-abroad project, "Project Ghana."
Project Ghana was Beauty for Freedom's first travel abroad initiative in Africa and the fourth continent they've visited to teach their creative workshops. Beauty for Freedom provides a multi-disciplinary course roster that includes drawing, painting, photography, music, and design. Its founders believe that sharing their students' artwork with the global community will foster their growth as creative achievers and critical thinkers. When youths have the chance to cultivate their creativity, their self-esteem and confidence soar, making their hopes and dreams more achievable.
To sustain and grow empowerment initiatives through the arts, Beauty for Freedom (BFF) partnered with Challenging Heights in 2017 to teach an arts therapy initiative featuring photography, watercolor painting and mural workshops to over 300 youth at the CH Friends International Academy and 58 young survivors of labor trafficking currently housed in the recovery program at The Hovde House Rescue Center. Beauty for Freedom brought in more than 150 lbs of art supplies and professional DSLR camera equipment used to create original artwork in the workshop series from June 24 – July 7th, 2017. My involvement was to help fundraise, raise awareness, recruit volunteers, and participate in the Project Ghana Art Exhibition &Auction.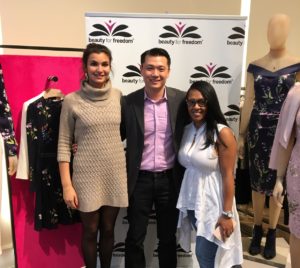 Interning for Beauty for Freedom has been an eye-opening experience. I was able to build a long-lasting relationship with an organization that gives hope and life to people who have lost their voices. This past year has been a tremendous learning experience, and knowing what I've learned, I will continue to support and volunteer my time with Beauty for Freedom. I personally challenge all of you to learn about the cause. And if you want to take it a step further and help, you can like them on social media, set up a Facebook fundraiser or volunteer. The most important lesson I've learned throughout this process is that everyone can help and make an impact.
Donate to Beauty for Freedom: www.beautyforfreedom.org
Full Article: https://www.thelexingtonline.com/blog/2018/4/25/beauty-for-freedom