30 Jan

Beauty for Freedom's American photographer empowers young human trafficking survivors who are sold off for $20 in Ghana by teaching them to use cameras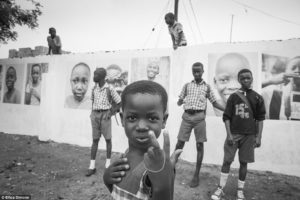 New York based anti-trafficking organization Beauty for Freedom is hosting an exhibition for Ghanaian victims. The Exhibition will feature 15 renowned artists who have worked with the young survivors of trafficking. Photographer Erica Simone traveled to Ghana last year with charity Challenging Heights to host workshops with some of the local children and teach them how to use cameras for the first time. The 15-piece, mixed-media exhibition will feature art collaborations using the Challenging Heights youth's photography re-interpreted and re-imagined by the artists
A group of renowned artists and photographers have teamed up to help empower young survivors of human trafficking who are often sold off in places like Ghana for as little as $20. New York based anti-trafficking organization Beauty for Freedom is set to host an upcoming exhibition that will raise awareness of the victims' plight and funds for the rescue of more survivors in Ghana. It will feature 15 renowned artists who have worked with the young survivors that are part of the Ghanaian anti-trafficking organization, Challenging Heights.
The goal of the exhibit is to empower the young survivors of trafficking as artists and creatives while raising funds for the rescue, recovery, education and reintegration of more survivors in Ghana.
Joining Simone is Nick Walker, Ydania Lopez, Mark Wagner, Laura, Anne Brooks, Jose Castillo, Alfredo Martinez, Michael Raeuschl, Zephy, Travis McCann, Jerry Chu, and Sophie Bartsich.
One hundred percent of the proceeds of the artwork sold will benefit the rescue and recovery programming for Challenging Heights and Beauty for Freedom's travel-abroad arts therapy programming.
For details on the exhibition on February 2, visit: beautyforfreedom.org.