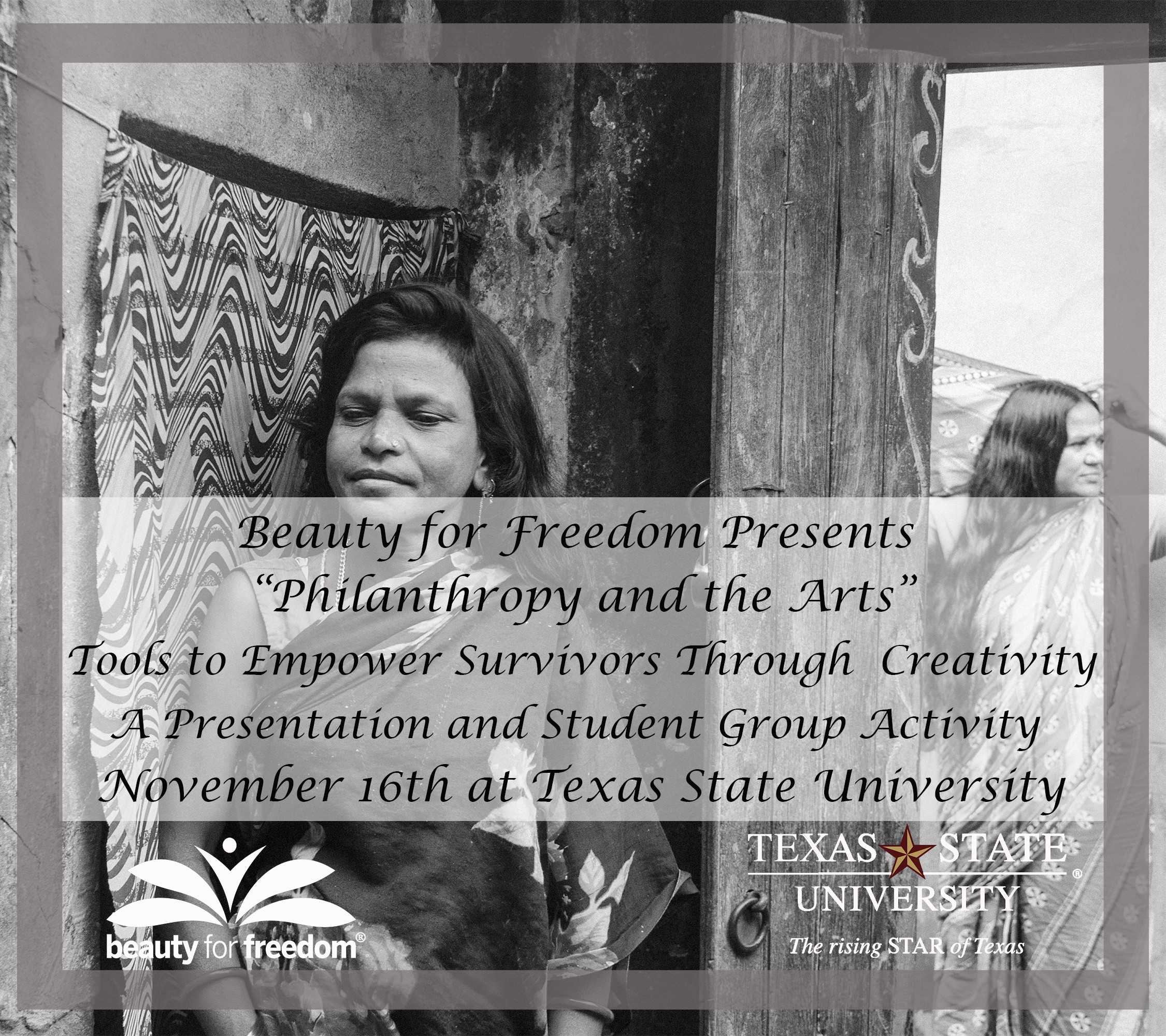 Beauty for Freedom – 11/16 Presents "Philanthropy & The Arts" at Texas State University (San Marcos, Tx)
School of Family & Consumer Science
November 16 @ 11:00 am

 & 12

:30 pm
Beauty for Freedom Presents "Philanthropy & The Arts" (San Marcos, Texas) at Texas State University Tuesday , November 16th 11:00am & 12:30pm at Texas State University (601 University Dr, San Marcos, TX 78666)
Supporting Survivors of Trafficking and At-Risk Youth in India
Tuesday, November 16th (11:00am & 12:30pm), Texas State University and NYC- based non-profit Beauty for Freedom (BFF) present "Philanthropy & The Arts": A Presentation and Student Group Activity Sharing World Changing Ideas facilitated by Beauty for Freedom Executive Director Monica Watkins and Co-Founder Jerry Chu. The objectives of the presentation and interactive break-out sessions will be to successfully engage students in strategizing innovative solutions and campaign creation around the global issues of eradicating human trafficking and promoting freedom using the arts, fashion and media as tools to empower. The group activity will culminate with students presenting their campaign ideas to the audience.
Group Activity Objectives
• Participants will be prompted to identify change-making ideas through their chosen majors and fields in collaboration with students from different majors in groups of 10.
• Participants will create one unified idea for a campaign (social media, marketing & PR)  and workshop the idea within their groups of 10.
• Participants will create a strategy for executing their campaigns and ideas.
• Participants will present their campaigns to the the audience at the culmination of the break-out sessions.